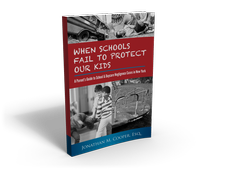 As every parent knows, your concern for your child's safety and well-being doesn't end when they leave to board the school bus. First you worry whether they will get to school safely. Will the bus driver drive defensively with that most precious cargo?
Next, you worry whether your child will be bullied on the bus, or perhaps at school.
What if your child is the subject of cyberbullying?
What if your child is injured on the playground on or the ball field?
These are just some of the questions that many, if not most, parents are concerned with.
Unfortunately, the area of the law dealing with school negligence and liability is complex, and many people do not truly understand how they work. Understanding the ins and outs of the limits of a school's responsibility and liability in New York is vital to not only protecting your child's rights after an incident, but also reduces the risk that your child will be harmed at school.
Failing to appreciate the nuances of New York law can ruin your child's school negligence case
Parents may unwittingly - and unnecessarily - ruin an otherwise viable negligence case against a school or municipality through simple ignorance of the procedural rules governing these cases.
Not every incident at school warrants a lawsuit; in fact, very few do
To be perfectly blunt, there are very few instances that warrant bringing a lawsuit against a school. And the reasons for that are both elemental and straightforward, ranging from difficulty proving that the school should be held liable for your child's accident, to the case not being economically viable.
On the other hand, if your child was seriously injured as a direct result of the school's actions, or more often, inaction, trying to make the determination on your own as to what next steps you should take to protect your child is probably a big mistake, and it could cost your child, both in the short and long term.
How this Guide Can Help Parents - Immediately
This guide reviews vital information commonly surrounding school negligence matters, such as:
5 Ways to Protect Your Child Against Bullying;

7 Sure-Fire Ways to Ruin Your School Negligence Case; and,

When "Play at Your Own Risk" Won't Bar Your Child's Claim
To learn more about school negligence in New York, get a copy of our free, valuable guideby filling out the form below.
Get Your Free Copy of the Book Here