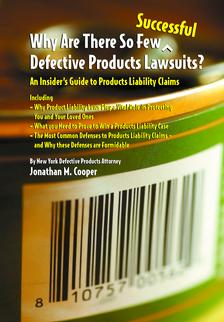 The world of products liability cases is intricate, and, for the reasons that are explained in this FREE eBook, there are very few "nuisance value" or small defective products cases in New York.
This book provides the reader with a basic understanding about the following:
Why the Laws Governing Product Safety Are A Vital Tool in Protecting You and Your Loved Ones from Defective Products;
What a Plaintiff Must Prove to Win His or Her Defective Products Lawsuit;
The Most Common Defenses to Defective Products Claims, and Why These Defenses Are Formidable; and,
Why There Are So Few Successful Defective Products Lawsuits
This book also informs the reader about how defective or dangerous product lawsuits cases work in New York, how a products liability case should be evaluated, and what questions you should ask your attorney to assure that you are being given an honest assessment of the liability and exposure in your case.

To find out whether you have a viable defective or dangerous products lawsuit, please call 516.791.5700 to schedule a free telephone consultation with defective products lawyer, Jonathan Cooper. You can also contact Mr. Cooper's office toll-free at 866.374.1164 to schedule an in-person meeting at his Long Island or Manhattan office to discuss your case.