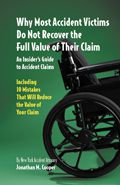 If you or a loved one have been seriously injured through someone else's negligence, and are looking for good, solid information about how to assure that your claim is not compromised, you've come to the right place.

By coming to this page, you've taken an important step towards learning THE TRUTH about why most accident victims will never realize the full value of their claim, including the 10 Mistakes That Are Guaranteed to Reduce the Value of Your Accident Claim.

This book on New York accident claims is FREE and is intended to educate the public about how to avoid those 10 Mistakes, and make sure they are fairly compensated in the event of an accident.

And there is no obligation on your end whatsoever.

And you know why?

Because we do not believe in any high-pressure sales tactics.

All we ask in return is that you let us know what you think about the book. And you don't even need to call; an e-mail to [email protected] is more than fine.

So if you would like to learn more, we encourage you to fill out the contact form on the right side of this page, and download your Free copy of "Why Most Accident Victims Do Not Recover the Full Value of Their Claim."

If you would like to be kept apprised of the ever-changing laws regarding accident claims as they pertain to construction accidents, car accidents or crashes, trip or slip and falls or the insurance laws in New York City and the surrounding areas, including Nassau or Suffolk counties on Long Island, or upstate New York in Westchester county, for example, and how they may affect your case, you should consider subscribing to our monthly newsletter.